During a hurricane, it's very easy for trees to be damaged or even lost due to extremely high, intense cyclonic winds. A hurricane's strong winds and heavy rains can cause many problems for a tree, especially ones with poor branch structure, weak root system, and overgrown limbs.
In our area of Florida, it's important to take the necessary steps to hurricane-proof your trees to minimize damage and help save your trees. Here is how to hurricane proof your trees and when it needs to be done in Cape Coral, Fort Myers, Lee County, and the surrounding areas.
---
Protect Your Trees' Root Systems
Your trees' roots aren't just a means of transferring nutrients and food to the core of your tree; they are critical to the overall stability and strength of the tree. The root system is like an anchor for your trees, securely holding it down during high winds. Laying mulch around your tree roots helps preserve nutrients and water in the soil while protecting the roots from damage. Roots are susceptible to damage from mowing, foot traffic, and daily wear and tear of weather and other elements. You should keep a layer of mulch around the base of your trees year-round, and periodically replace the mulch with a fresh batch.
---
Trim & Prune Trees Regularly to Prevent Hurricane Damage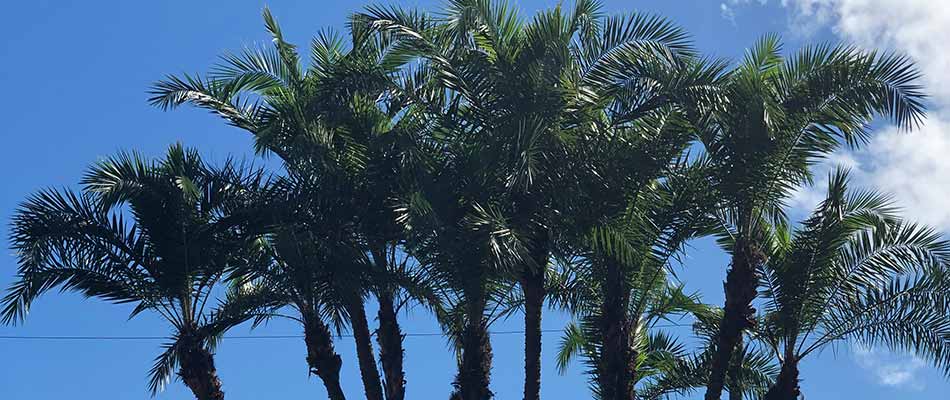 A strong, deep-rooted tree may not fall during a storm, but weak and overgrown canopy limbs are susceptible to damage and falling. Broken, dead, and damaged limbs can be torn from trees during a storm and turned into dangerous projectiles. These projectiles damage nearby buildings as well as your tree's health.
Regular trimming and pruning over the course of the tree's life can create a sturdy, well-spaced framework of healthy branches with an open canopy that allows wind to flow freely through the network of branches. Remove mainly the interior branches, as this will thin the canopy of the tree and allow winds to pass through it more easily. You should hire a professional and certified arborist to trim and prune your trees several months before the hurricane season, preferably during the particular tree species' dormant season or during early spring.
---
Cover Tree Trunks With Protective Wrapping
Tree trunks are just as susceptible to damage as the rest of your tree and play an equally important role in keeping the tree stable during a hurricane. You can provide added protection by wrapping your tree trunks with protective material like row cover or burlap. These materials protect your tree against flying debris during the storm that may injure the trunk and can be easily removed after the storm
The best time to prepare trees for hurricanes is year-round; however bracing, staking, and wrapping the trunks can be performed as soon as you receive warning that a tropical storm may be imminent.
---
Cabling, Bracing, & Staking Trees
Steel or wire cabling strategically interwoven throughout the canopy of the tree provides extra support to tree trunks and limbs and helps prevent them from snapping or breaking suddenly from hurricane winds. Purchase or construct tree braces made from wooden blocks. These braces come with adjustable straps to easily fit on any tree and provide extra support and prevent the trunk from bending in a storm.
Driving wooden stakes into the ground around trees and securing them to the trunk with tough strapping is a great way to further brace them against high winds and prevent the tree from being pulled out of the ground during a hurricane.
---
Prepare your trees for hurricane season.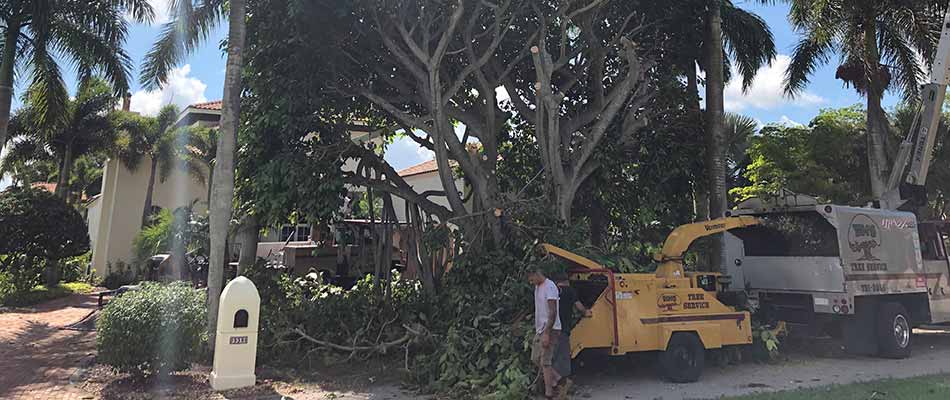 Help prepare your trees for hurricane season with our tree health services. We serve properties in Cape Coral, Fort Myers, Lee County, and the surrounding areas with tree trimming, tree removal, stump grinding, and more! Call us today at (239) 994-6384 to make sure your trees are in optimal shape to prevent damage and withstand the hurricane season.