In Lee County, there are several older cemeteries in need of repair, and the organization Honor Your DNA, created by Trae Zipperer, is aiming to restore them to their former glory. When they came to us asking to help trim back trees at the New Prospect Cemetery in North Fort Myers, FL, we were thrilled to volunteer our tree services.
The grounds had been maintained with lawn mowing, but the surrounding trees had become overgrown throughout the years and were starting to take over some areas of the cemetery. When we came in, we took a look at the situation and made a plan for how to tackle this tree overgrowth. Since this is a final resting place for many people, we wanted to make sure we left the site looking nice and respectful for any visiting family members and friends.
---
Removing Overgrown Tree Branches Above the Gravesites
In the middle of the cemetery, there is a large clump of trees. Their branches had not been trimmed in a long time and had started to grow together, almost making some of the graves inaccessible. Our team members came in with tree trimming equipment and trimmed the overgrown trees back properly so that visiting family members could easily reach the gravesites and pay their respects.
Removing these branches also helps to eliminate risks of branches falling onto the tombstones below and potentially cracking them. Some of the graves in this cemetery are quite old, including some Civil War veterans, so it's important to protect the history behind them.
---
Eliminating Dead or Dying Shrubs, Trees, & Branches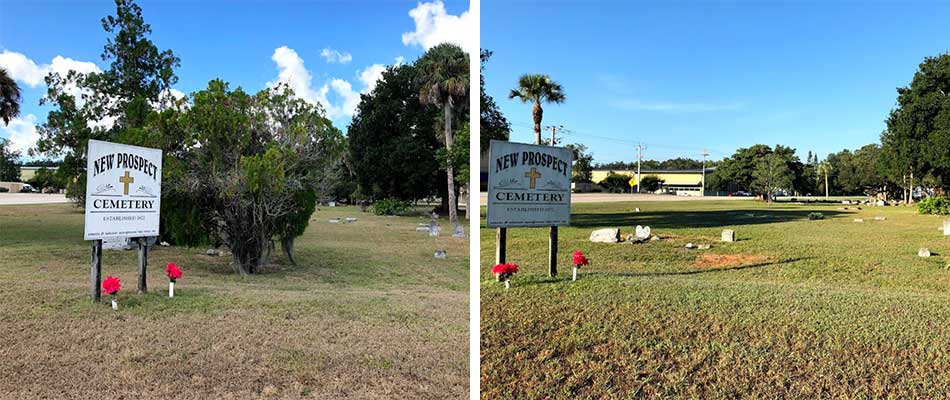 Throughout the property, there were also numerous plants that were dead or dying. We got rid of any plants, shrubs, or tree branches that looked unsightly. Besides the unsightly appearance, dead and dying plants and trees can pose risk to a property. These branches can fall off at any time, which could end up hitting someone visiting a grave.
Dead plants are also havens for pests such as insects and rodents. When a tree or plant on a property becomes infested with a disease or insects, it's easy for those to then spread to other plants. Removing these allows the other, healthy plants at the cemetery to continue growing without these threats. Our professional staff is well-trained in what trees need to be completely removed from a property.
---
Why It's Important to Maintain & Preserve Historic Properties
New Prospect Cemetery houses about 90 graves total. Those graves each have someone's family member or distant relative and are an important part of our local history here in Lee County. Maintaining and preserving historic properties such as this one ensures that our history stays intact and that these gravesites will be visited for years to come. If you'd like to donate to this cause, please visit Honor Your DNA's GoFundMe page. One hundred percent of the donations will go toward cemetery preservation and restoration. This project was also featured in the local news by WINK News and the North Fort Myers Neighbor if you'd like to read more details.
---
See some photos of the before and after process at New Prospect Cemetery.
---
If you're looking for local tree trimming services, contact us today!
At Tim's Tree Service, we don't just live and work in the Lee County area—we also deeply care about the area. Donating our time and services to this project was an honor for our company. If you're in Cape Coral, Fort Myers, or other areas of Lee County and are in need of tree services, give us a call today at (239) 994-6384 to set up an estimate.