Typically, our area of Florida doesn't experience much cold weather; however, the unpredictability of the winter months can sometimes produce a cold snap. During these drops in temperature, it's important to provide your palm trees with extra attention to protect them from the cooler weather.
Here are some tips for preparing your palm trees for cooler weather in Cape Coral, Fort Myers, Lee County, and the surrounding areas.
---
Move Potted Palms Indoors
If you have small palms that you are growing in pots, move them indoors to continue growing through the winter weather. Moving potted palms indoors will keep them warm and dry throughout the season and prevent any cold damage to them. If you choose to move your potted palms inside your home, make sure to place them near a window and provide them with as much light as possible. Even though your potted palm trees can thrive perfectly fine indoors during the cool winter months, they still need sufficient light to survive. Providing your palms with a warm, sunny spot indoors will keep them safe and dry all winter long. Simply place them back outside once the weather warms up.
---
Create a Makeshift Basket Using Chicken Wire
It's very important to never cut back your palm's leaves or cut down its trunk during the winter. Instead, you can create a temporary basket to cover the majority of the trunk and keep it safe and dry throughout the season. Place stakes around your palm tree's trunk and wrap it with chicken wire or fencing wire to create a makeshift basket around the trunk. Fill the basket with leaves or mulch. This will ensure the palm is protected from any cool weather but still able to breathe properly. Early March is a great time to remove the leaves, mulch, and wire.
---
Use Water Pipe to Insulate Your Palm
Using water pipe to insulate your palm tree is another great way to protect it against cooler weather. Cover the soil around your trees with mulch to protect the roots, then wrap the first group of leaves and the trunk with water pipe insulation. Fold the top over to keep any water from getting inside the insulation. Once March rolls around, remove the wrapping and mulch to resume growth.
While Florida doesn't typically experience much cold weather, it's still a good idea to prepare your palms for cooler weather in the event that a cold snap blows in.
---
Wrap Your Palms in Heat Tape & Burlap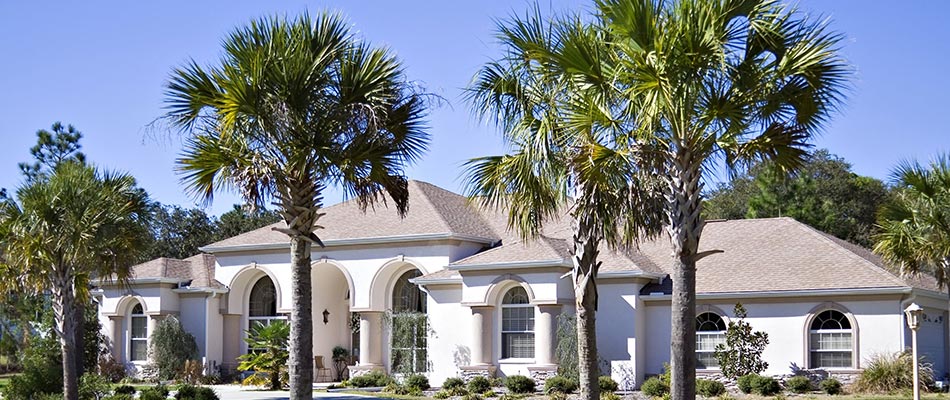 You can also winterize your palms using heat tape and burlap wrap. Pull your palm's fronds back and tie them, then wrap the trunk with heat tape starting from the base and working up the trunk. After it is fully wrapped in heat tape, wrap the trunk with three to four layers of thick burlap over the heat tape and secure with more duct tape. Over the top of all this, wrap the entire palm with plastic wrap. Once your palm is securely and safely wrapped, plug the heat tape into a ground fault receptacle. This will keep your palm warm all winter long; just be sure to unwrap your palm as the weather warms up again so you don't risk rotting the tree.
---
Do you need palm tree care in Cape Coral and nearby areas?
At Tim's Tree Service, we've been providing the highest quality tree care services for over 30 years in Cape Coral, Fort Myers, Lee County, and neighboring areas of Florida. Call us today at (239) 994-6384 to begin preparing your trees for the upcoming cooler weather.