Removing large trees is no easy task and is something that should always be left up to a licensed professional. There are many safety risks involved and you run the risk of damaging any nearby buildings as well.
Large tree removal in and of itself is difficult, but when the tree is in a small, tight space, it becomes an even more complicated process. Learn about how our licensed and trained tree surgeons will safely remove large trees from small spaces in Cape Coral, Fort Myers, Lee County, and other surrounding cities and communities in southwestern Florida.
---
Removing Large Trees from Small Spaces with Bucket Trucks & Other Equipment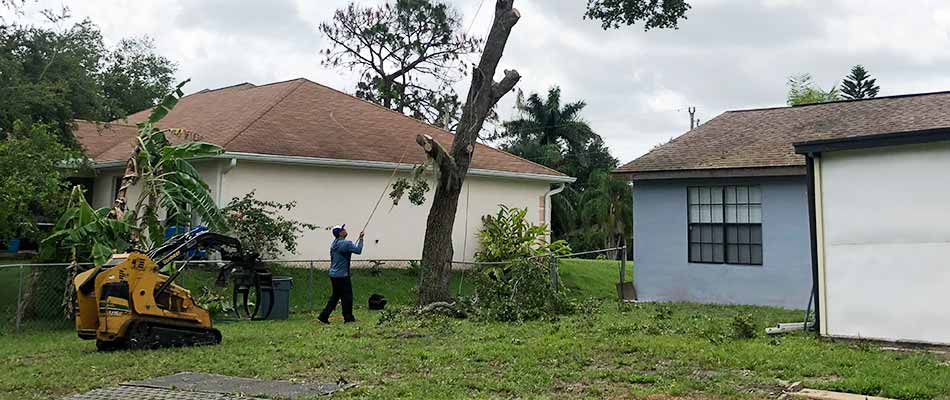 When we are contracted to remove a large tree, our crews always take the utmost safety precautions to keep ourselves safe as well as our clients and their property. Working within the confines of a smaller space to remove a large tree can raise the stakes of safety risks even higher. Here are the steps we take to remove large trees:
We raise a crew member in a bucket truck and maneuver it to an area where they can reach the first part of the tree to be removed.
Once the bucket truck is situated, the tree surgeon will then slowly and methodically cut off small pieces, one at a time. Before they are removed, a rope will be tied around each section so that it can be lowered safely to the ground without hitting any buildings, people, or vehicles. We do this part over and over again until there are no more higher parts of the tree to be removed.
After we have removed the tree's canopy and the higher branches, our crews will then move down the trunk of the tree, assessing the best ways to remove it as they go.
Once the tree has been fully removed and all parts of the tree have been safely loaded into our trailer, we will haul the tree off of your property.
We Grind the Tree Stump as Well
After the large tree has been removed, our crew can grind the stump down, too, if that is a service you have enlisted us for. It is generally recommended to remove the stump, as it can begin to rot and attract pests. If the stump is particularly close to a building, this can present undesirable outcomes such as termites invading the stump and then moving to your building's structure. We will always make sure the stump is ground down to six inches below the soil.
---
Do you have a large tree in a small space that needs to be removed? Contact us for an estimate.
Whether you need to remove a large tree for safety reasons, construction, or other issues, we can help. At Tim's Tree Service, we use our more than 30 years of tree service experience to swiftly and efficiently remove large trees from small spaces and other areas of your property. Our tree surgeons work with homes and businesses in Fort Myers, Cape Coral, Lee County, and surrounding Florida communities. Contact us at (239) 994-6384 for an estimate!