When you hire a professional tree company to work on trees of all shapes and sizes, it is important to make sure they have the right equipment for the job. Any professional company that claims to be experts in providing tree services will have the correct equipment, while non-professionals will more than likely show up unprepared for the task at hand.
Learn about the right equipment a tree company in Cape Coral, Lee County, Fort Myers, and nearby areas should have for any task working with trees.
---
1. A bucket truck is needed to reach tall trees and tough spaces.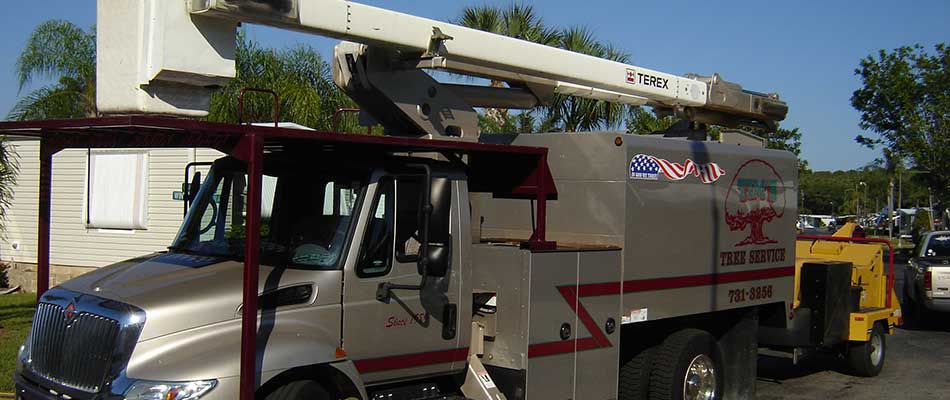 In order to reach the tops of tall trees and properly trim or remove them from the property, a tree company will need a bucket truck. This is by far the safest option vs. climbing up into a tree to cut down branches or prune away dying branches from the tree. Our tree surgeons can expertly manuever the bucket around the tree to safely trim off branches or remove the tree. It is also an essential piece of equipment to use when you have a large tree in a space that is tough to reach, such as a small side yard or an alleyway.
---
2. A grapple truck carries off large logs easily.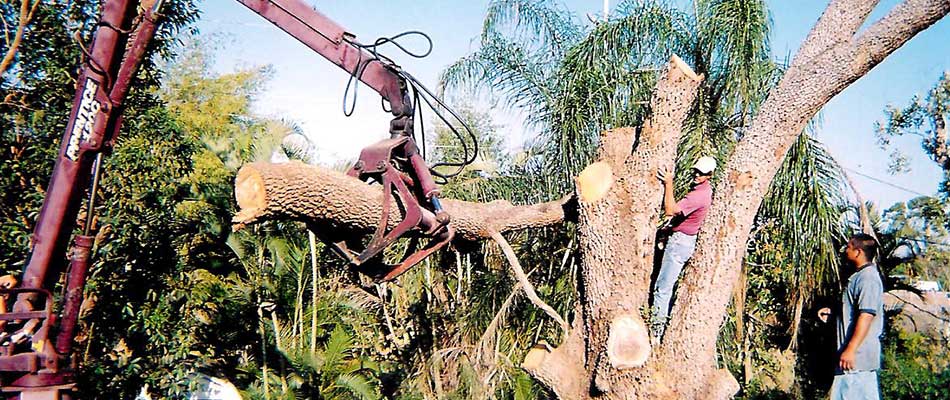 Larger logs can be hard to haul off without a grapple truck, which provides a way to move them around on the job site or haul them off. Without this, crews will have to cut the logs into smaller pieces and carry them. This will take more time and labor, which ends up being more expensive in the long run for you because you will have to pay for the labor.
At Tim's Tree Service, we often use our grapple truck to move the large logs over to the wood chipper so they can be ground down into mulch.
---
3. Wood chippers cut the tree pieces down into mulch.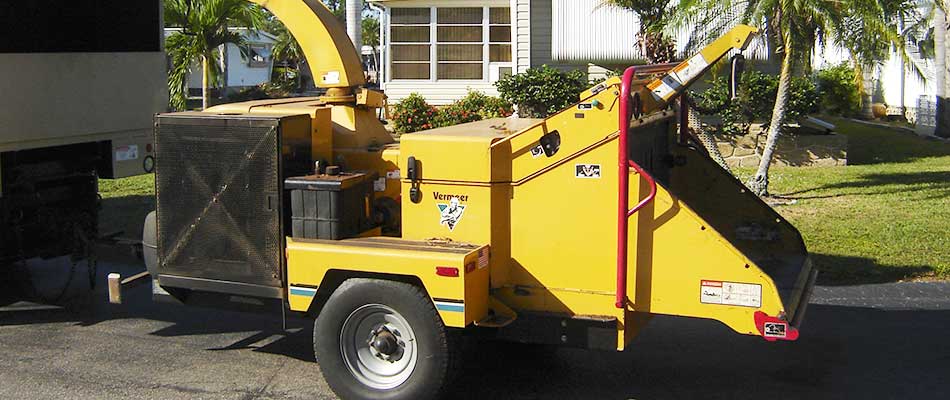 Another piece of equipment that any professional tree company should have is a wood chipper. This machine chops tree logs down into mulch, which makes it much easier to transport or haul away. If desired, the tree company can even leave the mulch on the premises for the customer's landscape beds as an eco-friendly option. This method also cuts down on time and labor at the job site, which is better for the property owner.
At Tim's Tree Service, we have all of this equipment available and all of our crews are trained in the best ways to operate it and the best safety protocols.
---
Do you need trees removed, trimmed, or pruned at your home or business? Contact us for an estimate.
For more than 30 years, the professionals at Tim's Tree Service have served residential and commercial properties in Cape Coral, Fort Myers, Lee County, and the surrounding cities in Florida. We hold proper licenses, insurance, and are some of the area's leading expert tree surgeons. If you need trees trimmed, pruned, or removed from your property, we stand ready to assist. Contact us at (239) 994-6384 to get an estimate!