In Florida, when there's a stump that needs to go, you'll be presented with two main options: stump removal or stump grinding. While they may sound similar, there are important differences to consider and, overall, one option that's better – stump grinding! Stump grinding is less intrusive to your land, not requiring the stump to be completely heaved up and roots to be pulled out. Since the stump is being ground down into small woodchips, you'll effectively be left with mulch that you can repurpose in your landscape. Because stump grinding takes less time and effort, it'll also be less expensive than stump removal. At the end of the day, either will get the job done, but if you're looking for the most efficient route, stump grinding is the clear winner!
---
Stump grinding is less invasive than stump removal.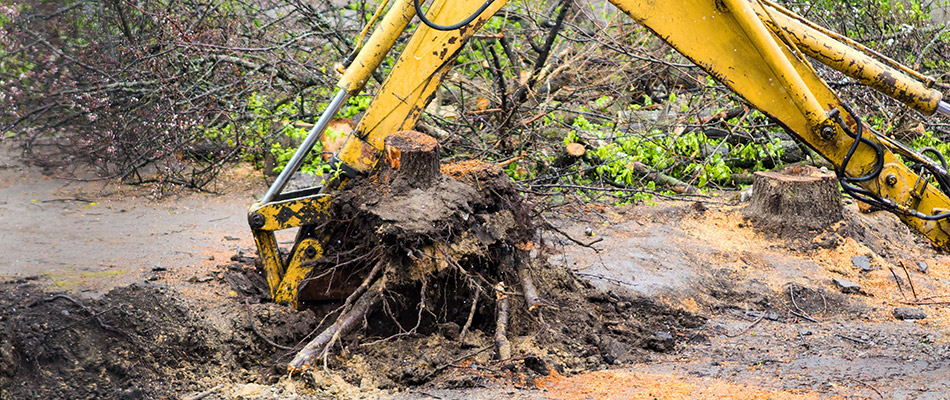 One of the biggest differences between stump grinding and removal is the amount of intensive work they take. With stump removal, the stump will be heaved out of the ground and then all of the tree's roots need to be dug up and removed. While this does leave you with completely clear land, it also leaves you with a massive hole that will need to be filled in before you can really do anything with it.
Stump grinding, on the other hand, is much less invasive. There is a special tool that will grind up the stump until it is reduced to wood chips, which are then easy to move wherever you like. The roots are left intact to decompose over time so the rest of the land around the stump doesn't need to be disrupted!
---
Stump grinding produces mulch that you can use elsewhere in your landscape.
The end result of stump grinding versus stump removal also highlights a big difference in the processes. With stump removal, you'll be left with a large stump and pile of roots to deal with, as well as a hole in your landscape to fill. However, with stump grinding, you'll be left with a nice pile of mulch to use elsewhere in your landscape. If you have a landscape bed that needs sprucing up or a fire pit that needs kindling, you're in luck! Stump grinding leaves you with easier and more functional cleanup for a win/win scenario.
If you leave stump grinding mulch where it is, it'll eventually break down and provide nutrients to the soil.
---
Stump grinding will be less expensive than stump removal.
When you start planning a landscaping project, everything can start to add up fast, so you'll often want to save where you can. Stump grinding is much less labor-intensive and time-consuming than stump removal, and you'll be able to see that reflected in the price tag. With the job being able to be completed much more quickly and easily, stump grinding will be less expensive than full stump removal. For anyone who is budget-conscious, it's clear which method comes out on top here!
---
If you have a pesky stump, call us today to schedule our stump grinding service!
At Tim's Tree Service, we live, breathe, and sleep all things tree. Our passion is in improving the health, safety, and protection of your trees, even when that means removing leftover stumps that could harbor pests or disease. Our stump grinding service will ensure that the stump is fully taken care of with as little disturbance to your property as possible. We'll grind down the stump four to five inches below grade level to break up the main rooting system, so you won't have any problems in that area if you want to plant grass seed or landscaping plants! Our services are available in Cape Coral, FL and nearby cities like Fort Myers and Lee County. If you're ready to kiss that pesky stump on your property goodbye, call our team today at (239) 994-6384 to schedule our professional stump grinding service!