Stump grinding is a great way to get rid of those unsightly stumps on your property in Florida, but it's important to know that DIY stump grinding is a bad idea because there are several mistakes that you could make. For example, if you don't use the right equipment, you could end up using a grinder that's too small for your stump or one that's too big for it. It's also a dangerous task, and if you aren't experienced, you could hurt yourself or damage your property. You could also make mistakes when choosing the proper safety gear, like not wearing gloves, goggles, ear protection, or the right clothing. Lastly, you could forget to clear any obstructions, debris, rocks, and other materials from the area where you plan on grinding, which could end up damaging the grinder.
The best thing you can do is hire professionals to take care of your stump grinding needs. Pros will have all the necessary tools and knowledge to grind away your unwanted stumps safely and efficiently.
---
1. You could use the wrong equipment when grinding your stumps.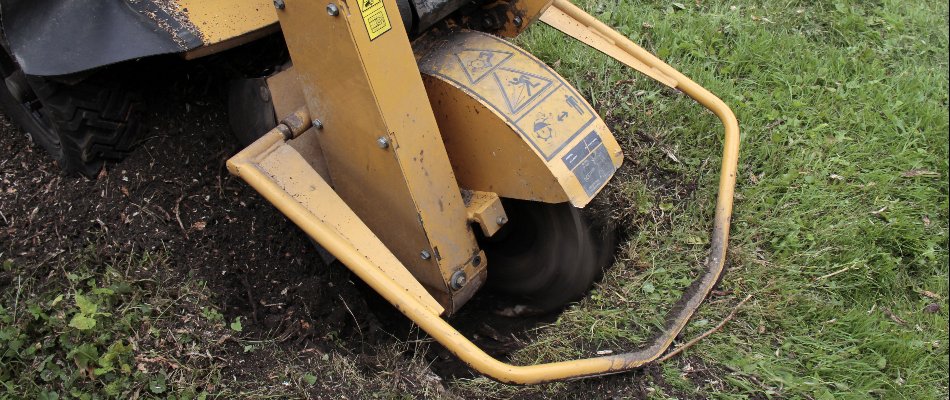 One mistake you could make when attempting to grind stumps yourself is using the wrong equipment. When grinding down a stump, you need to consider its size. If the stump is too small or too big for the stump grinder that you are planning to use, it may not be able to perform the job correctly. Also, you may realize that you'll need other tools like a chainsaw or shovel to complete the process, and if you don't have those, it will take time and additional money to acquire them.
If you don't grind down your stump correctly, there's a chance the tree could grow back!
---
2. It Can Be Dangerous & Risky To Grind Your Stumps Yourself
Although it may seem like an easy task to grind stumps yourself, it can actually be very dangerous. There is a chance you could hurt yourself or damage your property if not done properly. You need to be careful around the grinder because it can cause serious injuries if mishandled. There is also a risk of the grinder breaking or malfunctioning while you're using it, which could result in even more issues. When you leave stump grinding to the professionals, you don't have to worry about these dangers or risks.
---
3. Not Properly Preparing the Area for Stump Grinding
Before you begin grinding down a stump, it's important to prepare the area properly. There could be obstructions, debris, rocks, and other materials lying around that could interfere with the grinder and potentially damage it. These objects could also become projectiles and hurt you or others nearby. To prevent problems, you should clear the area of anything that could potentially damage the grinder or injure you during the process.
---
4. Improper Safety Gear Could Put You At Risk For Injury When Grinding Your Stumps
Safety gear is essential when performing stump grinding. If you try to grind down your stumps yourself and fail to put on the proper safety gear, you could put yourself at risk of serious injury. You need to make sure you're wearing gloves, goggles, dust masks, and long-sleeved shirts and pants. If you fail to wear this type of safety gear, you could get seriously injured so if you're trying to DIY stump grinding, you better gather all of this gear! Instead, the better option is to hire professionals so you won't have to worry about any of this!
---
Call us today to schedule our stump grinding service.
At Tim's Tree Service, we offer our professional stump grinding service to property owners in Cape Coral, Fort Myers, North Fort Myers, and nearby areas in Lee County, FL. Our team has 33 years of experience grinding stumps and we know how to get the job done right. Call us today at (239) 994-6384 to schedule our stump grinding service!